We're back with another edition of the waiver wire players you need to be targeting to win your leagues. The NFL is constantly changing, especially when star players get hurt, and gives an opportunity to a player that may not be a household name. This was the case when Raheem Mostert suffered a knee injury and gave an opportunity to Elijah Mitchell. Mitchell then suffered a shoulder injury and gave an opportunity to JaMycal Hasty who suffered a high ankle sprain almost immediately after.
The point being is that life moves fast in fantasy football. Apparently, it moves even faster if you play for the San Francisco 49ers who have had terrible injury luck over the last few seasons. A week such as this just emphasizes the importance of having playable depth or a handcuff or two that becomes a league-winning move if a star player goes down due to an injury.
As a reminder, the players on this list are generally not on rosters. They need to be rostered in less than 50% of ESPN leagues. Without this criteria, I could tell you to pick up Derrick Henry after a huge Week 2. I would also advise that you find a more competitive league if a player of that caliber is on the waiver wire.
Justin Fields: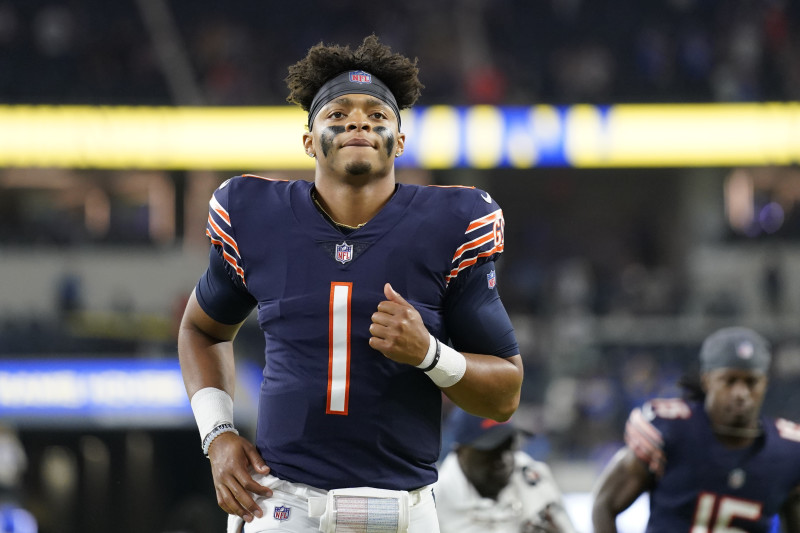 Somehow Fields is only rostered in 48% of leagues in ESPN. I understand rookie quarterbacks generally don't produce at a QB1 level, but when you have a player that rushes ten times in a game where he didn't play every drive, that screams fantasy success. The truth is you don't need more than 10 attempts honestly because that is an incredible amount of carries for a quarterback. If he averaged 200 passing yards per game and around 45-50 rushing yards per game, you're getting a baseline of 12-13 points per game. While that in itself is not special, if he throws a touchdown he's now up to 18. What you're looking for is more efficiency on the ground or a second touchdown and you have a dominant starter who is just sitting out there waiting for you to grab him.
Rondale Moore:
While I did just highlight another Cardinal receiver last week, I prefaced that pick with the fact that Arizona's offense could throw to a plethora of other guys on any given week. While this should foreshadow a potential letdown, Moore surprisingly leads the team in targets, catches, and yards. While this will change back towards Hopkins's directions, it is incredible how much the team wants to use Moore. Moore has seen his targets increase from 5 to 8 from Week 1 to 2. If I can get 7-8 targets from Kyler Murray every week and that guy is as dynamic as Rondale Moore is, that is a match made in heaven. Moore should be considered a flex option in all formats for the remainder of the year.
Tony Pollard:
Pollard is an exciting pick to some and incredibly boring to others. The thought is that this was going to be Elliott's backfield while Pollard just does some clean-up work. He has 23 touches through two games and the Cowboys have shown they aren't afraid to give the ball to a dynamic playmaker. Is Elliot the better running back? Absolutely. Are there things Pollard can do that Zeke can't? Absolutely. Pollard can be more explosive and teams are not accounting for this as much on the field, which gives him the best chance to succeed with his limited touches. Pollard was already a good handcuff, but if Elliott were to miss any time, you'd be happy you grabbed Pollard when you did.
Sony Michel:
You may be thinking, why would I pick up a player who has like five fantasy points and no catches on the year? That is an excellent question, but when you look at Michel's situation that could change quickly. Darrell Henderson suffered a rib injury that gives more of an opportunity to Sony, just as I referenced at the top of the article. Michel would have an opportunity to more touches in one of the most running back-friendly systems in the league. If Michel fails or Henderson comes back sooner rather than later, you can quickly drop him for another opportunity. Given that next week, the Rams play the Buccaneers' run defense, you may want to stash Michel or trade him after next week's game.
Cordarrelle Patterson:
Can a return specialist be a viable fantasy option? Maybe! Patterson has scored on several occasions, taking over for the struggling Mike Davis. Patterson only had two fewer carries than Davis in week 2. He has value in his current role, and if his touch total increases, he is dynamic enough to be fantasy relevant. What I would like to highlight is the potential dual eligibility on some websites where Patterson can be plugged in at either running back or wide receiver on some sites. He is nothing more than a flex, but if he can prove to be more dynamic than Davis, Patterson may earn more touches or at least more consistent touches.